Do you or someone you know love German Shepherd Dog's more than life itself? Well then, we have the perfect recommendations for you! Here are 12 awesome gifts for anyone who loves GSD's from the bottom of their heart.
1. German Shepherd Christmas Lightweight T-Shirt Hoodie, $27.99 – $29.99. The ugly Christmas sweater has evolved and this one is all about German Shepherds! (Available in other styles.)
2. I Have Plans German Shepherd Slouchy Tee, $24.99 – $27.99. Those plans are probably brushing and getting hair out of the carpets but they're still plans.
3. What Owning A German Shepherd Looks Like Mug, $14.95 – $17.95. The most relatable mug in the world.
4. Vintage German Shepherd USA, $24.99 – $25.99. Rep your favorite breed AND your favorite country! (Available in other styles.)
5. German Shepherd USA Ceramic Star Ornament, $9.99. Your GSD may prefer to hang out under your tree, but this one goes IN it.
6. This Girl Loves Her German Shepherd Ladies' Premium T-Shirt, $24.99 – $25.99. The hands are printed on to conveniently keep your actual hands free for petting your German Shepherd. (Available in other styles.)
7. Funko POP German Shepherd Action Figure, $20.83. The only thing that could possibly be cuter than this big-headed, big-eyed GSD is the one you love the most!
8. Sip Coffee & Pet My German Shepherd Pullover Hoodie, $39.99 – $44.99 Your GSD wakes you up. Your coffee keeps you up. They're a team!
9. German Shepherd Christmas Scoop Neck Sweatshirt, $34.99 – $35.99. Oh GSD…Oh GSD…
10. German Shepherd Dog Silk Tie, $37.50. For the well-dressed German Shepherd loving business person.
11. Inhale Exhale German Shepherd Yoga T-shirt, $19.99. Breathe in deep, exhale dog fur.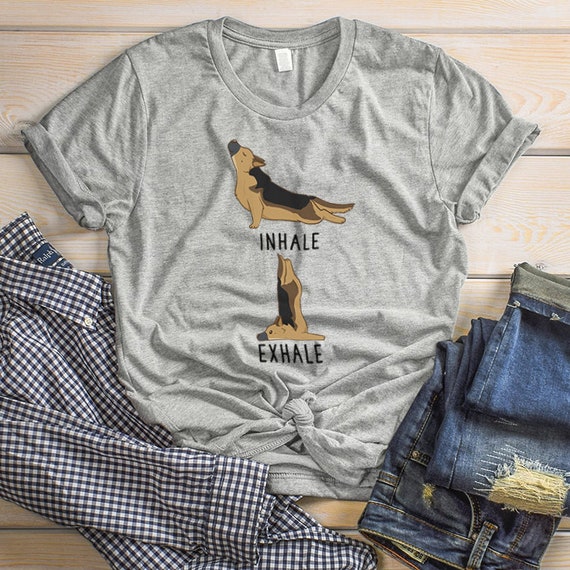 12. This Human Belongs To.. Personalised GSD Keyring, $10.99+A little gift can say a lot – especially when you personalize it!
Do you want a healthier & happier dog? Join our email list & we'll donate 1 meal to a shelter dog in need!