In a December 8th, 2017 announcement on Dog Food Advisor, raw food brand Darwin's Natural Pet Food has issued its first recall listed on the site. The company is committed to selling whole, all-natural pet food, explaining on its website that the benefits of raw food diets include shinier coats, better energy, and relief from allergies.
Unfortunately, no company is error-proof, and the following lots of food have been recalled due to possible Salmonella contamination:
Natural Selections Turkey Meals for Dogs
Net wt 2 lbs
Lot #39937
Manufacture date 08/24/17
Natural Selections Duck Meals for Dogs
Net wt 2 lbs
Lot #40487
Manufacture date 09/29/17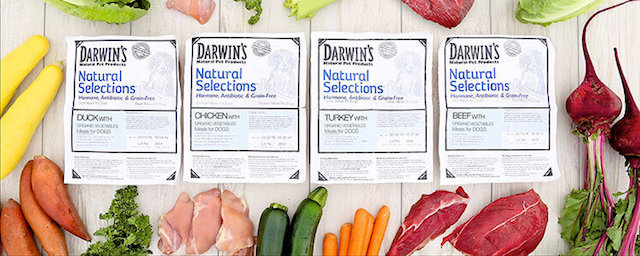 In an email to customers, the brand's founder and president explains that there have been no reported illnesses in connection with the recall, which has been issued out of "an abundance of caution." Truth About Pet Food posted the full letter, which reads:
I am writing to alert you to a potential food safety problem with the following product(s) that we sent to you between September and early October of this year:

Natural Selections Turkey Meals for Dogs, Net wt 2 lbs, Lot #39937, manufacture date 08/24/17

Natural Selections Duck Meals for Dogs, Net wt 2 lbs, Lot #40487, manufacture date 09/29/17

Through testing, we have determined that the above product has the potential to be contaminated with Salmonella.

Salmonella is a bacterial organism that can cause serious and sometimes life-threatening infections in people, particularly young children, frail or elderly people, and those with weakened immune systems.

There is risk to humans from handling contaminated products, especially if they have not thoroughly washed their hands after having contact with the product or any surfaces exposed to these products.  Some healthy individuals who are infected may experience fever, diarrhea, nausea, vomiting and abdominal pain. In rare circumstances, infections can result in the organism getting into the bloodstream and producing more severe or chronic illness.

According to the FDA, it is uncommon for healthy dogs to become sick from Salmonella. However, dogs with weakened immune systems (such as puppies or older dogs) have a higher risk of becoming sick. Pets with infections may be lethargic and have diarrhea or bloody diarrhea, fever, and vomiting. Some pets will have only decreased appetite, fever and abdominal pain.

https://www.fda.gov/AnimalVeterinary/ResourcesforYou/AnimalHealthLiteracy/ucm509766.htm

We have not received any reports from customers regarding these meals, and are taking these steps out of an abundance of caution. However, if your pet has consumed the recalled product and has any of the above symptoms, please contact your veterinarian if they persist.

We are recommending that you inspect your inventory of Darwin's meals to determine if you have any left from the lot listed above. If any of the above product is still in your inventory, please take the following steps:

Write down the lot number, date/time of manufacture and quantity of any product from the above lot remaining in your inventory
Dispose of the product by placing it in a plastic bag, then placing the bag in the trash in a secure manner
Contact us at productsafety@darwinspet.com to confirm that you have taken the above steps and to arrange for replacement of any unused product. Please note the following:

Your name and address (or customer number)
The date and time of manufacture and quantity of food from this lot that you have remaining in your inventory
Confirmation that you have disposed of it

We anticipate that some of our customers will have questions or concerns regarding this matter. We welcome the opportunity to talk with you about it. Toward that end, we have set up a special toll-free number for you to call: 866-832-8319 (Monday-Friday from 6am to 6pm, and Saturday 7am-3pm Pacific Time).  Please note that we may not be able to talk with each of you at once, so we do ask that you be patient, particularly if your issue is not of an urgent nature.

We regret any concern and/or inconvenience that this causes you.  We are taking steps to reduce the opportunity for this to occur again.

Sincerely,

Gary Tashjian
Founder and President
Darwin's Natural Pet Products
According to the FDA, dogs with healthy immune systems often don't get ill from Salmonella. Puppies, seniors, and dogs with weakened immune systems are at higher risk of becoming sick. Depending on severity, symptoms may include:
Vomiting;
Diarrhea (which may be bloody);
Fever;
Loss of appetite; and
Decreased activity level.
PetMD explains that extreme cases can include miscarriage and death.
US citizens can file a complaint on FDA.gov and Canadian citizens can fill out a consumer product report.
As always, if you notice that your dog doesn't seem to feel well or is acting strangely, consult with your vet ASAP.
Do you want a healthier & happier dog? Join our email list & we'll donate 1 meal to a shelter dog in need!